Elliott Hall
Concept, Co-Creator, and Co-Investigator

Elliott Hall is a Senior Software Engineer at King's Digital Lab. He is a developer and novelist with over fifteen years of experience in software development and digital research.
He is also the author of three novels published by John Murray, the Strange Trilogy, as well as works in film and theatre. The Ghost Hunt is his first attempt to combine his creative and development work.
He created the Ghost Hunt because he felt the current computer science curriculum isn't engaging enough students. He wants to shift the context of how computer science is perceived, from something boring, boyish and middle class back into a tool of the imagination.
Tom Bowtell
Co-creator and Director

Tom Bowtell is the Director of BAFTA-winning creative education company KIT Theatre and was previously co-director of immersive theatre company Coney.
He is the creator of the Adventures in Learning (AiL) system. Adventures in Learning (AiL) combine immersive theatre, digital interactions and game mechanics to deliver formal learning. Projects are designed in dialogue with teachers to ensure that teachers' learning targets are embedded at their heart. Writer and director Tom Bowtell conceived Adventures in Learning in 2008 with the ambition to explore the potential of immersive theatre and game mechanics to inspire children to learn.
Professor Mary Krell
Primary Investigator

Mary is a digital artist whose work spans performance, interactivity and narrative. Her work has been shown on multiple continents and she regularly collaborates with artists and thinkers from around the world.
Originally from the USA, she has been based in the UK at the University of Sussex since 2002. Prior to coming to Sussex, she was the Head of the Design Department at Cornish College of the Arts in Seattle. Before entering higher education, Mary worked as a digital designer at Seattle's Saltmine Creative during the initial dot.com boom of the 1990s. While at Saltmine she worked on projects for Wizards of the Coast, Microsoft and the Pokemon franchise.
Mary has also been an associate member of Forced Entertainment as a digital author. With them, she created a number of interactive works that were exhibited around the world at venues including the ZKM (in Karlsruhe, Germany), the ICA (in London) and The Art Institute of Chicago. Nightwalks, an interactive virtual reality piece created in collaboration with the company won the Transmediale in 2000.
Carina Westling
Co-Investigator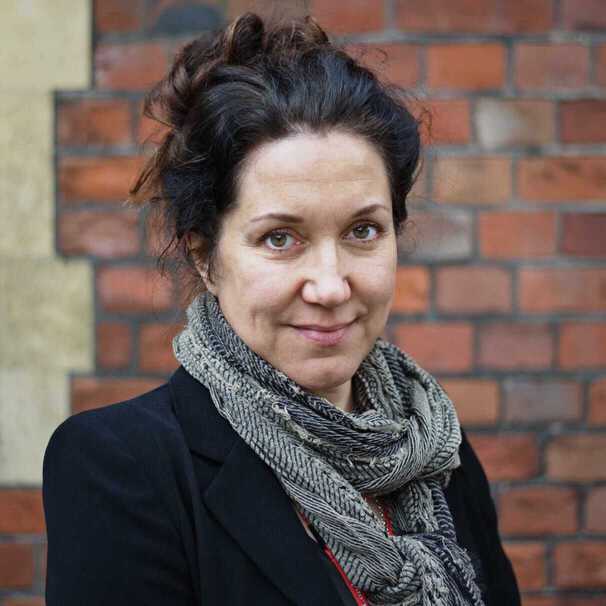 Carina is an Honorary Research Fellow at the University of Sussex, and will bring her research expertise in interaction design and the immersive aesthetic to the project, as well as extensive experience in communication design, scaling methodologies, project and production management.
Her book Immersion and Participation in Punchdrunk was published in 2019 (Bloomsbury Methuen Drama).